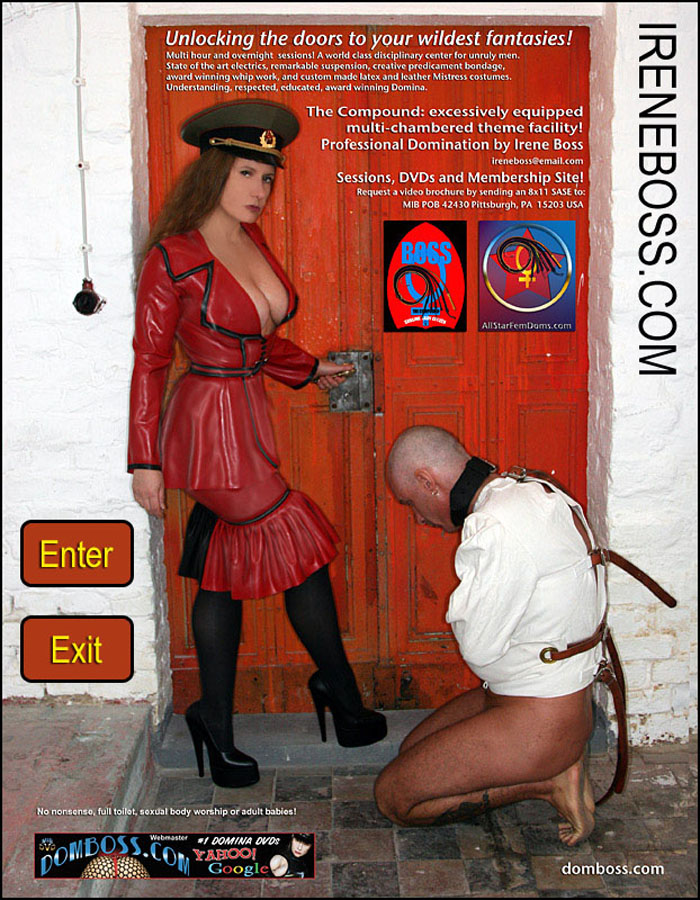 Domina Irene Boss produces female domination DVDs with male and female slaves enjoying CBT, genitorture, caning, bullwhipping, tickle torture, humiliation, electricity, fetish, bondage, medical scenarios, spanking, leather and rubber! This site contains images and video clips featuring femdom DVDs, female domination, dominatrix stories, dominant mistresses, owk information, mistress interviews, irene boss, slave training, governess roleplay, interrogation scenes, electroplay, sissy training, cruel bullwhipping, extreme torture and is in the city of Pittsburgh! Welcome to the erotic world of Domina Irene Boss and Friends! World renown Domina Irene Boss is an experienced Female Disciplinarian and a Sublime Lady Citizen of OWK!
The member's area features famous International Ladies!
We make films containing... Amazons, Enemas, Ball kicking, DSM (Bondage and Discipline / Sadism and Masochism), Bullwhipping, CBT: Cock & Ball Torture, CP: Corporal Punishment (Includes spanking OTK, paddling, whipping and caning) Canine / Equestrienne, CFNM, Cigars, Corsets, Cross dressing, Crush, Dildo gags, Dildo training, Domestic Discipline, Dominance and Submission, Electrical (Electro), Exhibitionism, Face Sitting, Feet, Forced bi, Forced Feminization, Fuck Machines, Hoods, Humiliation, Huge Insertions, Intergenerational D/s scenes (great age differences), Interracial DS scenes (different races), Latex, Leather, Legs, Medical, NIP (Nude in Public), Nipple torture, Oral sex (Female / female), Panties, Panty hose encasement, Piercing, Pony Play, Power Exchange, Sensory Deprivation, Blow up Sex Dolls, Shoes, Single tail whips, Signal whips, Smoking, Smothering, Spanking, Spitting, Sploshing, Stockades, Suspension, Tickling, Trample, Transvestites, Transsexuals, Torture, Uniforms, Wet and Messy and Wrestling!
Our films, web movies, and photographs feature Madame Nadine - Pittsburgh Pennsylvania USA, Natali Demore - Los Angeles California USA, Porshe Lynn - Phoenix Arizona USA, Mistress Precious - Houston Texas USA, Sabrina Belladonna - Los Angeles California USA, Lady Sage - Columbus Ohio USA, Mistress San - Denver Colorado USA, Madame Sarka - Prague Czechoslovakia Europe, Mistress Shane - Antwerp Belgium Europe, Mistress Simone - Chicago Illinois USA, Domina Skye - New York New York USA, Domina Snow - Columbus Ohio USA, Lady Tantalize - Atlanta Georgia, Mistress Thora Nang - Los Angeles California USA, Mistress V - Atlanta Georgia, Lady Victoria Frost - Pittsburgh Pennsylvania USA, Dom Lady X - Pittsburgh Pennsylvania USA, Mistress Xena - Chicago Illinois USA, Sublime Lady Amazon - Netherlands Europe, Goddess Amazon - Atlanta Georgia USA, Mistress Amrita - Tokyo Japan Asia, Mistress Anastasia - Pittsburgh USA, Mistress Anna Valentina - Los Angeles California USA, Mistress Antoinette - Tampa Florida USA, TV Mistress Astria - Lexington Kentucky USA, Lady Ayhla - Los Angeles California USA, Betka Schpitz - Portland Oregon USA, Mistress Brianna - Washington DC USA, Caroline Pierce - Henderson Nevada USA, Lady Cheyenne - Providence Rhode Island USA, Goddess Claudia - Pompano Beach Florida USA, Ms Coral Korrupt - Philadelphia Pennsylvania USA, Domina Danielle - New York New York USA, Domina Dante Posh - New York New York USA, Mistress Denetra - Scotland Europe, Mistress Ellen - San Diego California USA, Ember Burns - Portland Oregon USA, Mistress Eve Minax - Chicago Illinois USA, Mistress Fawn - Baltimore Maryland USA, Mistress Gemini - Los Angeles California USA, Goddess Genesis - Los Angeles California USA, Madame Ginger Fyredanzer - New York New York USA, Mistress Heather - Lexington Kentucky USA, Lady Hillary - Los Angeles California USA, Ilsa Strix - San Francisco California USA, Madame Ingrid Valkerie - Pittsburgh Pennsylvania USA, Kendra James - Ft. Lauderdale Florida, USA, TS Mistress Jeannine - Los Angeles California USA, Lady Jillian - Pittsburgh Pennsylvania USA, Princess Kali - Boston Massachusetts USA, Mistress Kat - Boston Massachusetts USA, Louise D - Chicago Illinois USA, Mistress Luna Sea - Charlotte North Carolina USA, Lady Marlon - Berlin Germany Europe, Maya Sinstress - Chicago Illinois USA, Mistress Morgana / AKA Bess - Pittsburgh Pennsylvania USA, Claudia Varin - New York, NY USA, Madame Christine - Czech Republic Europe, Mimi Divine - Philadelphia USA, Countess Diane - Pittsburgh PA USA, TS Mistress Jeannine - Los Angeles CA USA, Mz Kara - Pittsburgh PA USA, switch Marnie - Los Angeles CA USA, switch spanky - Berlin Germany Europe, submissive whisper - Columbus Ohio USA, submissive angelica - England UK